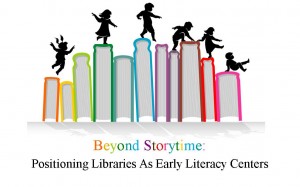 Beyond Storytime: Positioning Libraries As Early Literacy Centers trains staff to consistently and effectively incorporate concepts from the latest early literacy research into the library's storytimes and other programming for children ages 0-5 and their parents/caregivers. The project also provides training, individual consulting, and resources to library staff to assist them in transforming the library into an early learning center. Beyond Storytimes is a collaborative project with Upper Hudson Library System.
Early Literacy Double Header Workshops: Something Good for Everyone: Children as Learners and Adults as Partners in Multi Age Storytimes Play at the Library: Creating Early Literacy Spaces That Invite Learning
Power Point: Play at the Library
Power Point: Storyville
Handout: Community Playthings List
Handout: Discount School Supply list
Handout: Lakeshore/Melissa & Doug list
Screencast Trainings Following are links to four screencast trainings, to be completed by March 30, 2013. Each is less than 10 minutes long and includes audio.
Enjoying Repetition, Building Brain Connections
Including Math in Storytime
Adding Science to Storytime
Letter Fun in Storytime
This project is made possible, in part, with Federal Library Services and Technology Act funds awarded to the New York State Library by the Federal Institute of Museum and Library Services, the Mohawk Valley Library and Upper Hudson Library Systems.