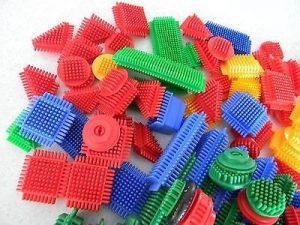 Bristle Blocks (For ages 2+)
Bristle blocks feature soft, interlocking bristles that stick together at any angle for frustration-free building. 
Creativity Building Toys for Dexterity and Fine Motor Skill 
Includes: 
The building sets include pieces in assorted sizes and vibrant colors. Sets included in these two totes include: 
Basic Building set with functional wheels 
Bristle Block Spinaroos 
Jungle Adventure Bristle Blocks 
Bristle Shape 3 D Picasso Tiles 
Check out these ideas for building tips. 
Check out this video for simple ideas.