CODING: For Youngsters (For ages 4+)
Code concepts are made fun and easy with these two activities: Code Hopper is an active play coding game that teaches the concept of algorithmic thinking to preschoolers. Combined with the think and learn Code-A-Pillar which offers youngsters ages 4+ valuable practice in sequencing. 

Code Hopper: Jump into Coding Fun! (2 sets)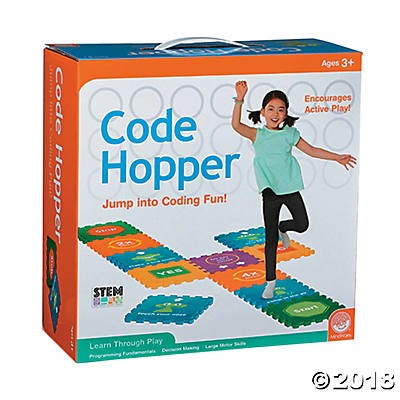 Description:
Includes 2 sets of 12 two-sided foam mats with guide (24 mats total)
Code-A-Pillar (2 sets)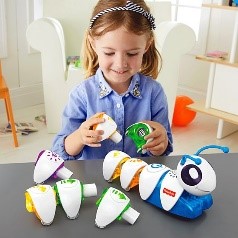 Description:
Includes 2 sets of
16 easy-to-connect segments
2 motorized head segment
4 targets
1 set of screwdrivers if have to add AA batteries (adult use only)
Each code-a-pillar requires 4 AA batteries; extra batteries are included
Each segment lights up as the action happen, and a motorized head segment features lights, sounds and blinking eyes to bring Code-a-Pillar to life. Kids connect the segments to make Code-a-Pillar go forward, left, right or wherever they choose.
Online Resources:
Code Hopper on Mindware http://playonwords.com/award/2018/04/28/code-hopper-mindware/
Coding Games for Kids https://preschoolsteam.com/coding-games-for-kids/
Fisher Price Code-a-Pillar lets you plug and program a little robot friend https://www.youtube.com/watch?v=OngZbrNQhMA
Fisher Price Code-a-Pillar Teacher's Guide https://recitpresco.qc.ca/sites/recitpresco.qc.ca/files/CodeapillarTeacherGuide.pdf