Cubelets Twenty is the perfect tool to deeply investigate robotics. Cubelets are a groundbreaking robot construction system designed for budding innovators ages four and up. Cubelets were designed to teach the big lessons behind complex systems, design thinking, and emergence with tiny robots. Cubelets Twenty comes complete with everything inventors, young and old, need to build thousands and thousands of interactive robots. Instead of programming your robot's behavior, you snap the Cubelets together and watch the behavior emerge like a flock of birds or a swarm of bees. This kit contains Cubelets that are pre-loaded with the newest Cubelets operating system, Cubelets OS 4.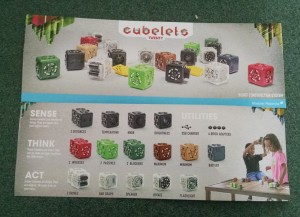 Modular Robotics Cubelets Twenty Construction Kit
Set includes two each of the Drive, Distance, Inverse, Passive, and Blocker Cubelets.
Also includes one each of the Flashlight, Rotate, Speaker, Bar Graph, Temperature, Knob, Brightness, Maximum and Minimum Cubelets.
2 Battery Cubelets.
Brick Adapters allow connected play with your favorite brick-based construction kits.
Newly designed Battery Cubelet provides 30% greater power capacity, so you can play longer than ever before.
Robot recipe cards for starter robots, more ideas available online!
2 USB charging cables.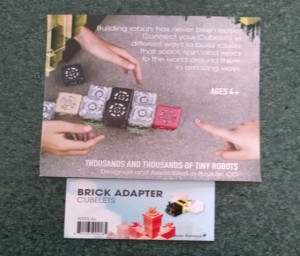 Modular Robotics Cubelets Brick Adapter (4-Pack), Yellow.
Use these yellow adapters to connect CUBELETS and LEGO bricks!
Bring your LEGO creations to life.
4 to a pack.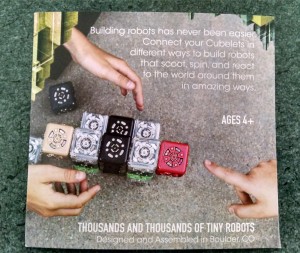 Resources:
http://riorancholibraries.org/DocumentCenter/View/299
http://lycmlis.weebly.com/cubelets-lesson-plan.html