Dominoes is a classic number game that can be a fun way to reinforce numbers, number sense and counting skills. Domino tiles are a lot of fun to play with too!
LEARNING OPPORTUNITIES
Numeracy: number recognition, measuring, counting, addition, subitising and patterns.
Problem solving.
Sensory- hands on manipulating tools.
Fine motor skills- strengthening little muscles through manipulation of tools.
Hand and eye coordination- watching and doing and coordinating these actions.
Language development – talking about what they are doing, sharing ideas, communication and numeracy vocabulary.
Self-esteem- a sense of pride and achievement.
Here's a link to what to do with Dominoes beyond the game! https://www.google.com/search?q=what+to+do+with+dominoes&safe=active&tbm=isch&tbo=u&source=univ&sa=X&ved=0ahUKEwjZq4WtpMTbAhXDtVMKHQ9kBt4QsAQIowE&biw=1584&bih=748
Recommended Age
4 yrs. – 8 yrs. / Pre-K – 3rd gr.
Description
8 tubs of 168 wooden dominoes—which includes 6 complete sets of 28 dominoes! Dominoes come in 6 colors; each domino measures 1 3/4″ long.

8 sets of four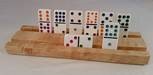 WARNING: CHOKING HAZARD – Small parts. Not for children under 3 years.
Resource Links:
Domino Rules https://www.dominorules.com/the-basics
The Easiest Way to Play Dominoes https://www.wikihow.com/Play-Dominoes
Early Literacy: Counting with Dominoes  https://www.learning4kids.net/2016/02/21/counting-with-dominoes/
Kaplan Early Learning: Teaching Strategies for Using Dominoes in the Classroom  https://www.kaplanco.com/blog/post/2016/04/28/teaching-strategies-for-using-dominoes-in-the-classroom.aspx
Google: Domino Chain Reactions!
Easy Domino Experiment  http://inspirationlaboratories.com/domino-experiment/
Dominoes Chain Reaction Sets New Guinness World Record  https://www.dogonews.com/2017/11/20/video-of-the-week-76017-dominoes-chain-reaction-sets-new-guinness-world-record