Age Recommendation: Ages 5 and up.
Encourages logic, problem solving, imagination, fine motor skills, and creativity.
Great fun for brainy kids and adults alike.
Experiment to see what kind of zany, zigzagging action is possible!
Easy to follow instructions for plenty of super spinning action.
Each structure has multiple marble-path possibilities.
Includes:
Speed Sprocket, Roto Catcher, 45 steel marbles, 28 single-exit cubes, 14 bottom-exit cubes, 14 double-exit cubes
180 cubes consisting of 3 different designs to be used as scaffolding, ramps, paths, and much more
2 Cascade Stilts, 2 Coaster Tubes, 1 Marble Vortex, 1 Pivot Trampoline, and color instructions.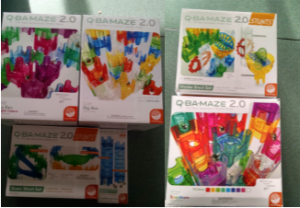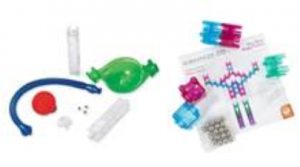 Plans:
http://www.q-ba-maze.com/plans.php
Resources:
http://www.toysaretools.com/2012/07/review-and-giveaway-q-ba-maze-20-big.html