Strawbees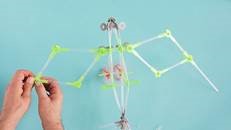 Strawbees is an award-winning, light-weight, construction system for all ages. It is a kit based on simple units called Strawbees, that lets you connect straws to each other and build little to huge mechanical objects from just straws and cardboard.
The kit contains:
Four kinds of connectors

MVLS has the 2 AccuCut dies; and we made the four kinds of connectors:
2 boxes of clear straws included (until we run out!)
Library provides scissors!
Here is everything Strawbees: https://strawbees.com/education/
Some basic Googling revealed that there are a lot of fun things you can do with the Strawbees for all ages, and you can use things like a Raspberry Pi and other electronics to automate your build and take your making up a notch. Check out this YouTube video from the Strawbees channel:
Going forward, libraries can take donations of empty milk jugs and other plastic recyclables to make more connectors, which would make this is a great Earth Day Makerspace.
Add a display of science and architecture books.
Some basic Googling revealed that there are a lot of fun things that can be done with the Strawbees for all ages, and things like a Raspberry Pi and other electronics could automate the Strawbee build and take making up a notch. Check out this YouTube video from the Strawbees channel:
More Strawbees: 
Fun with New Strawbees:  https://www.facebook.com/SchuylerPublicLibrary/posts/10153015394661221
http://makerfaire.com/makers/strawbees-dream-big-build-bigger/
Here's a cool Instagram video of a Strawbees robot: http://instagram.com/p/vg7QmpMJyv/
Robots made with Strawbees: http://toyland.gizmodo.com/you-can-finally-build-a-robot-army-using-cheap-plastic-1669993341
Search Twitter with the hashtag #Strawbees to see pictures of Strawbees in action
Here's a piece of art at the Dallas Love Field Airport. You could totally have kids make this with Strawbees: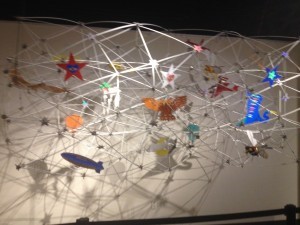 Instructions adapted from: http://www.teenlibrariantoolbox.com/2015/02/tpib-strawbees-a-great-tool-for-makerspaces/