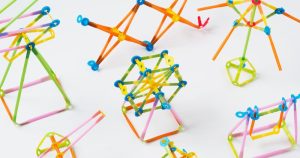 Strawbees is an award-winning, light-weight, construction system for ages 6+. It is a kit based on simple units called Strawbees, that lets you connect straws to each other and build little to huge mechanical objects from just straws and cardboard.
The kit contains:
Four kinds of connectors
MVLS has the 2 AccuCut dies; and we made the four kinds of connectors:
2 boxes of clear straws included (until we run out!)
Library provides scissors!
Some basic Googling revealed that there are a lot of fun things you can do with the Strawbees for all ages, and you can use things like a Raspberry Pi and other electronics to automate your build and take your making up a notch. 
Going forward, libraries can take donations of empty milk jugs and other plastic recyclables to make more connectors, which would make this is a great Earth Day Makerspace.
Add a display of science and architecture books.
Resources
Here's a cool Instagram video of a Strawbees robot